Best smart Mixing and Mastering Plugins
When you hear the terms "smart" or "intelligent" plugins, they're referring to a group of technologies that combine forensic audio analysis, artificial intelligence, and machine learning. These programs can react individually to the input signal. Take, for example, an EQ. A regular EQ allows the user to process a wide range of frequencies. But the EQ itself is unconcerned with the material entering the input and just follows the instructions. The included appropriate presets are for certain content but only roughly and not perfectly matched to the input signal. A 'smart' EQ, on the other hand, will analyze the incoming audio and adjust its operations accordingly, such as cutting too much sub on bass or giving a kick more punch.
All of these technologies rely on pattern recognition algorithms that have been trained. Machine learning means teaching a program to individually recognize certain details and peculiarities of the incoming signal and to assess how it should react to them.
This is my current list (updated regularly) of the Best smart Mixing and Mastering Plugins. These tools are valuable building blocks when creating my sample packs. For detailed specifications please visit the linked websites of the manufacturers.
iZotope Ozone 11 Advanced
The most recent version of the well-known mastering toolkit is called iZotope Ozone 11. New modules provide fresh solutions for handling issues with your audio content.
Ozone 11 is an amazing software plugin. It allows you to create the perfect mastering chain for your track by chaining together a variety of processing modules.
The AI-powered Master Assistant in Ozone generates genre-specific starting point preset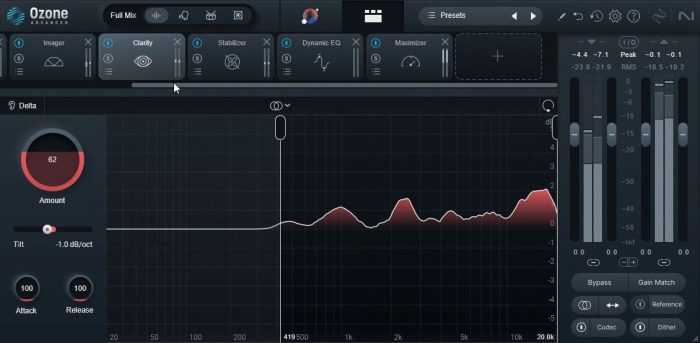 for you based on an analysis of the input signal or a reference track. The use of AI has increased significantly and produces top-notch outcomes. By the way, the advice provided by AI Assistant is useful even if you are managing an analog mastering chain. It then does the main work and provides an excellent basis for my own final tweaks.
Some highlights of Ozone 11 (Advanced Version): The Clarity Module is my favorite feature of Ozone 11. It's a great alternative to tools like Soothe 2, Gullfoss, or SplitEQ. The module works in the range of 300Hz to 20kHz and is very easy to use. Impressive results are possible with just the few controls Amount, Tilt, Attack, Sustain, and Frequency. It's opening the top end and bringing up the details. Stem Focus Processing: This new feature is also impressive! Without affecting the other components of your mix, you can focus on the element you want to process. This is unbelievable and changes everything. Just concentrate on certain elements such as the drums, bass, or vocals, to amplify them, gain control over them, or give them life using Low-End Focus or another technique. Thanks to this unique feature, it will certainly be less necessary in the future for mastering engineers to have the individual stems of the track sent to them, as they can intervene on the stereo mix. With the earlier module Master Rebalance, you can "just" change the volume of the elements. But with the adaptability of stem-focused processing, you can now get much closer to the desired result.
Transient/Sustain Processing across 10 different modules: Enhance the transient and sustain independently to unleash your creative potential. This function makes it easy to e.g. specifically increase the transient of a kick in the mix to give it more punch. Or you can add more sustain to the bass notes. You get the idea – it's simply incredible. Upward Compress: It's a kind of focus increase or vibe enhancer at the Maximizer module. Boost the quiet areas while keeping fast transients. Assistive Vocal Balance: Find the sweet spot quickly to produce vocals that are crystal clear and perfectly balanced. Izotope's Master Assistant learned how to position the vocals in the mix after studying hundreds of popular songs. You won't ever need to be concerned about levels again with the new AI Vocal Checker. Simply impressive! Master Assistant: newly redesigned page with Tonal Balance section, Loudness, Targets, and extras like Dynamic Match, Match Clarity- and Stabilizer Amount, and the new addition Vocal Balance.
Besides that, you get new modern interfaces, Delta Buttons (enabling you to hear how each module is affecting your audio), and the Master Assistant with total balance, width, and impact targets from the latest hit songs. This remarkable tool has not only enhanced the sound of my samples but has also ignited my creativity in ways I never thought possible.
I really value the fact that when Izotope releases new versions, they actually add new features to their older modules as well, as opposed to essentially just increasing the version number like some other companies do.
Although these features already were included with Ozone 10, they are still stunning: With Master Rebalance it is possible to change the level of instruments from the finished mix in real time without the individual tracks being available. It's used to change the volume of bass, percussion, or vocals anywhere in the audio track. An incredible feature and a great help for me to be able to make fine adjustments after the mix. The low-end focus beats any EQ. This allows you to give the bass a little more pep, tightness, and punch in a very short time. This function is very useful to avoid additional processing of the mix—a real-time saver.
If you're looking for a simple layout that doesn't overwhelm you don't look further. This intuitive and easy-to-use gem – with its resizable and great-looking GUI – is a game changer for all kinds of mixings and masterings.
In my opinion, Ozone is preferable to online services such as LANDR, CloudBounce, etc., because the user can influence the result himself with just a few clicks. Such possibilities are not possible with any online service. Ozone 11 is a state-of-the-art solution and inspires me in all areas.  The industry-standard mastering suite just got even better!  It's a fantastic gem and a huge time-saver.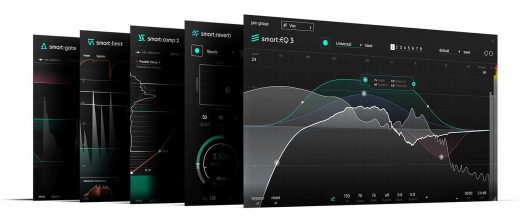 Sonible smart:bundle Plug-in Collection
It includes smart:gate, smart:limit, smart:EQ 3, smart:reverb, and smart:comp 2.
The smart:bundle Plug-in Collection is designed to speed up the mixing and mastering processes for you. You get fantastic results quickly, and this is true of all the tools in this series. Just to be clear: I have no qualms about recommending the bundle. Here, you get a great deal for your money. I'll talk about my top three tools from this series:
Smart:gate
Due to its greatest inspiration, I'll start with smart:gate. Layering is a crucial component of my work, and beat programming is one of my main areas of focus at Sounds of Revolution. The ability to focus on a specific source when gating is made possible by the tool's automatic detection of a target source (such as a kick, hats, or tom). Smart:gate differs from conventional gates in that it only responds to signal components that are specific to the target and does not simply open or close based on the input signal's overall level. Just one of a kind!
New opportunities in sound design are made possible by this tool. It can also add transparency to drumloops or whole mixes with just a few easy steps.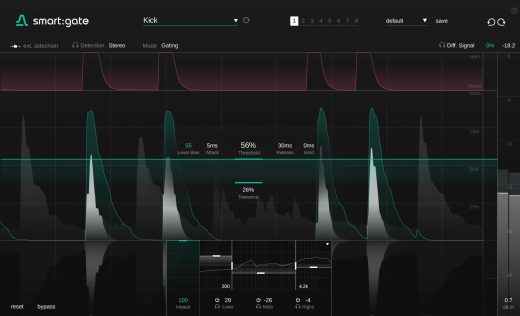 Smart:gate has a clean parameter layout, useful visual feedback, and is very easy to use, just like the other tools in this series. Although this plugin was primarily created for music producers, I'm sure it would also be ideal for podcasters and content producers. Especially here, you can hear how well Sonible's artificial intelligence technology operates. It comes highly recommended!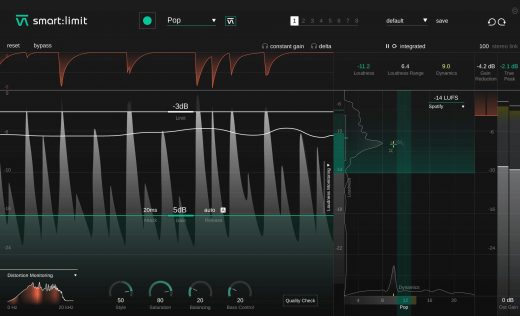 Smart:limit
The well-designed Learn mode and genre presets make it simple to strike the ideal balance between loudness and dynamics here as well. With fewer artifacts and distortions than some of its rivals, Smart:limit produces a loudness gain. At the touch of a button, the differential signal between the original and the restricted signal can be output. So you can hear the difference and hear how the limiter alters the sound, which is fantastic!
Another impressive feature is the detailed metering option. This display includes both the true peak and the typical loudness metering. The signal analysis even comes in plain text, like "The peak level is good for Spotify" – cool!
You also receive superior optical feedback on any signal level and its processing. You can quickly add the finishing touches to the outcome using the four sound-shaping tools: Style (soft/hard), Saturation, Balancing, and Bass Control.
Smart:comp2
The compressor is easy to use and swift, just like the other tools. Instead of presets, you select from a list of 31 profiles based on thousands of tracks that have been analyzed and are appropriate for the source being processed (bass, synth lead, pads, drum bus, etc.). A striking result is obtained after a brief signal analysis. The result also provides a very good comparison to the original sound due to the automatic volume compensation.
The tool also has spectral compression, which analyzes signals after they have been split into 2,000 bands. Comp2 automatically corrects unwanted resonances it finds. Here, the tool functions more like a smart, high-resolution multi-band processor with specialized setting options.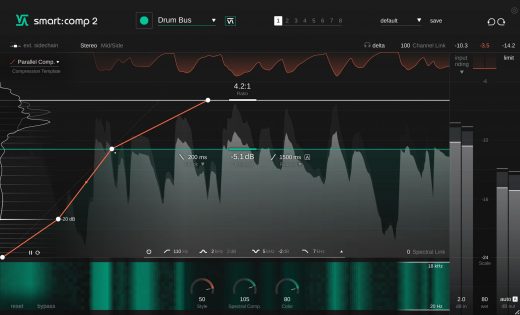 With the "Color" setting you can even focus the function on a specific area. The "Signal Riding" feature is also beneficial. In this manner, the signal is already balanced (as you would do with volume automation, for example) prior to the compression itself, allowing for an even control of the compression. The results are much more useful than they would be with very dynamic input signals. Other features include 8 snapshots (not just the usual A/B comparison), sidechain ducking for specific frequency ranges, and low CPU load. This is not the one hundredth imitation of an analog compressor; rather, it is a novel approach. I use smart:comp 2 not only for the "usual" compression, but also because of the functions for creative sound processing.
iZotope RX10 Advanced
Leading post-production engineers rely on the multi-award-winning audio repair suite RX 10 Advanced when they need to efficiently and effectively prepare audio for commercial release. RX10 Advanced is an amazing tool when it comes to ridding problematic recordings of unwanted background noise. There are many sophisticated modules available that impressively remove hum, clipping, clicking and even isolating dialogue from other noises.
Here are some news of the latest version RX10: The new Repair Assistant uses more modules at the same time and gives better results than RX 9. It's the new kind of magic. With the upgraded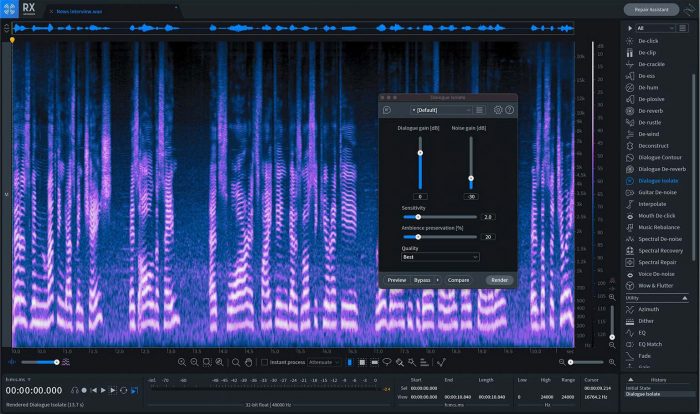 Spectral Recovery, you can resynthesize missing frequencies in recordings with limited bandwidth. The new Text Navigation feature, which generates and displays transcriptions of speech, allows you to navigate dialogue recordings. With the new Dynamic Adaptive mode in De-Hum, which supports multichannel audio up to Dolby Atmos 7.1.2, you can remove unwanted hum more quickly.
Some examples from my practice: "Dialogue Isolate" removes road or wind noise from field recordings without any problems. De-reverb as the name suggests removes reverb. This way, you can effortlessly bring the core of the recording "forward" in the mix again. Or if, for example, voice recordings were made with less than ideal equipment (or VoIP / telephone recordings), it is not uncommon for highs to be missing in the frequency spectrum. The problem is solved with a few clicks on "Spectral Recovery." This is impossible to achieve with an Exciter/Vitalizer. Anyway, I think it's impressive that you can edit/remove everything that appears in the spectrum display. This is much more than a standard EQ.
It's not just about eliminating "disruptions/noise," though. When I make a demo track, for example, the mix of the various parts does not always match perfectly. However, with "Music Rebalance," you can adjust the stereo sum mixing ratios afterward – yes, afterward!
This tool is definitely a must-have for every mastering engineer or producer! Since you may be overwhelmed by the available modules at the beginning, the RX10 has a "repair wizard". This diagnoses your audio data and offers processing suggestions. It's that easy!
Rolling back an audio selection to any previous step in the History list to get the best combined audio processing from any point in time is also simple. Also that the expandable history list now shows up to 30 of the most recent undo steps for quick reference without scrolling is a very useful feature.
When it comes to processing problematic audio material, RX10 Advanced has a lot of options. At this point, it's impossible for me to go over all of the features. I am convinced that there is nothing comparable in this field – it is truly remarkable. RX10 is one of my best smart Mixing and Mastering Plugins. The gold standard for audio repair has improved once more.
iZotope Neutron 4
I have been a huge fan of iZotope Plugins for many years and Neutron 4 is no exception. This unique mixing suite comes with 8 plug-ins including a mothership and 7 component modules. To sculpt your sound, use the component plug-ins individually or combine them in the mothership. You'll also get Visual Mixer, Relay, and Tonal Balance Control 2 plug-ins to help you with your mixing.
Each update of this plugin expands the already rich possibilities enormously.
I find the new Unmask module impressive, where you can make space between two competing tracks, balancing your bass and kick or allowing vocals to shine over your mix.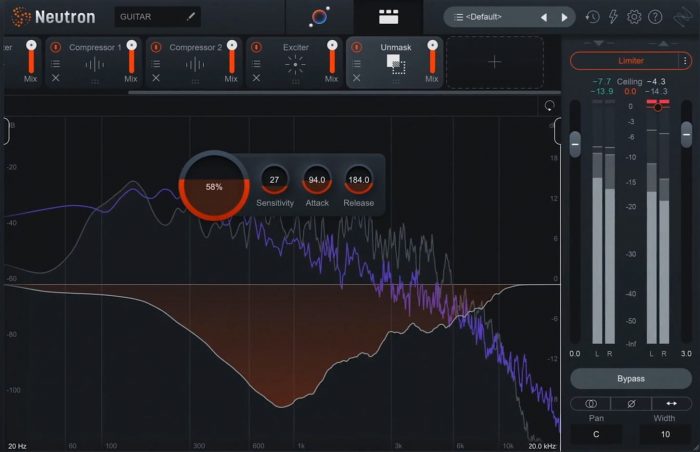 Eliminating frequency interference has never been easier. Since I mainly produce drum loops, bass loops etc for Techno/Minimal/Deep production, the new punch mode in the compressor module is an impressive addition. This element gives my drums, percussion, and bass more thump, punch, or snap. For those who don't have Trash yet (also a highly recommended tool), you can now also find a new trash mode in the exciter module.
Last but not least the intelligent mix assistant, as well as the well-produced, presets impress me again and again and offer an excellent option for further processing. Everything is very intuitive and easy to use. iZotope has raised the bar again!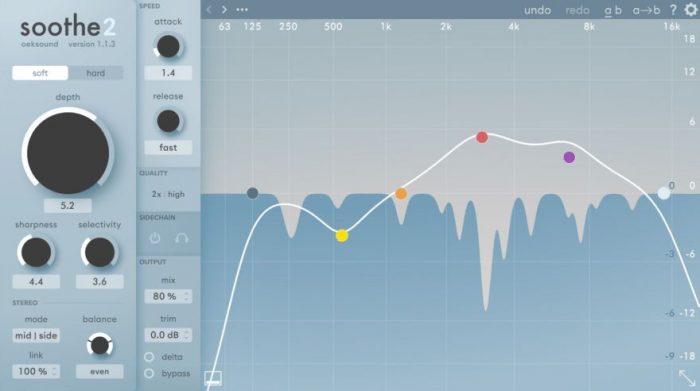 Oeksound Soothe2
I highly recommend Oeksound Soothe 2 if you have a problem with sharp, biting frequencies/nasty resonances.
This is a dynamic resonance suppressor plugin. It automatically detects problematic resonances and applies matching reduction with minimal artefacts. Soothe2 allows you to intervene across the entire frequency spectrum. It's the first time that inharmonic signal components are suppressed organically.
It's simple to use and gives you complete control over the procedure. This tool saves a ton of time when it comes to locating interfering frequencies.
Soothe2 works wonders with just a few clicks, especially with field recordings, which are often unbalanced. You can achieve such a result if there was no EQ. It's one of those magical tools that you don't realize how good it is until you use it.
Mastering The Mix Reference 2
It can be frustrating to not know how to make your music sound like your favorite mixes. Reference 2 brings you closer to the sound of them.
With this tool it is simple to match your reference tracks' EQ balance, stereo width, compression, and loudness. This is accomplished by providing you with the clear, actionable information you require to get your music sounding great and ready for release.
I have several tools, including meter plugs, but getting all of my gear level matched to my current mix took too long, and there were too many steps that slowed me down. And now, with just one click, you're done! The best part is that it always matches your current mix in terms of volume.
This plugin not only allows you to properly listen to the tracks. It also visually displays what you need to work on, thanks to the "Trinity Display."
It's a great and inexpensive way to speed up your workflow.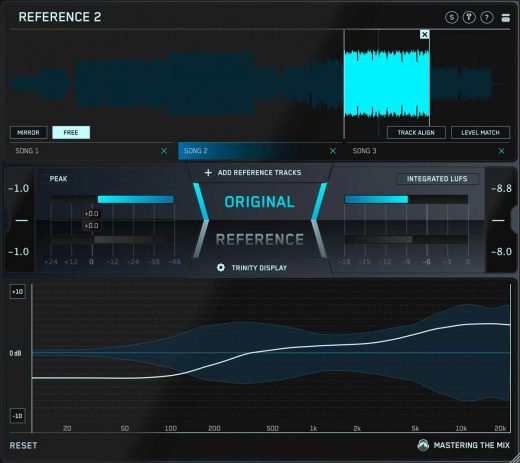 NUGEN Stereoizer
Stereoizer is a flexible stereo-width plug-in with a definite distinction—your mix will still sound fantastic in mono. You can increase the size of your stereo image from mono to stereo, stereo to super-wide, and all points in between. In contrast to standard mid/side processing, it offers time-based and level-based (or both simultaneously) approaches to stereosizing.
Due to the prevalence of mono portable radios, smartphones, as well as the fact that most Club/PA sound systems are still configured for mono playback, mono compatibility is still a crucial consideration. Since no artificial reverb, chorus, or delay is used to change the spatiality of the recording, the original character remains untouched. As I am often sampling from a wide variety of mono sources, such as Modular Systems
or Mono Synths, I can create a great-sounding stereo image with just a few clicks. I also like the dynamic and great-looking visual feedback of this powerful tool.
Over the years, I've tested many tools of this kind. Hardly any offers such an impressive and artifact-free mono compatibility as Stereoizer. Even if the tool requires some training time – believe me, it's worth it! The results generated by Stereoizer are always convincing. Highly recommended!
These are my favorite smart Mixing and Mastering Plugins. Any producer will benefit from these 'intelligent' tools. I hope you enjoyed reading this.