Best Reverb Plugins
The joy of experimenting always has the highest priority when creating the sample packs of Sounds of Revolution. That's why I like to use reverbs with extraordinary possibilities. If a reverb sound is perfectly adapted to the source material, it is pure enrichment. I like to put effects like compressor, sidechain, gate, bit crusher, etc. behind the reverb to make the final sound more interesting. But the automation of reverb parameters can also produce great results. Try it out! This is my current list (updated regularly) of the Best Reverb Plugins. For detailed specifications please visit the linked websites of the manufacturers.

Baby Audio Crystalline

Baby Audio is one of those developers whose plugins always stand out from the crowd, both in terms of GUI and sound/features. Crystalline is a modern-sounding algorithmic reverb that can be controlled (simple click and drag actions) with the help of 12 square control blocks. It has a very clean and user-friendly GUI. For me personally, it's the best-looking GUI available (black and white is available). It impresses with the sparseness of its design.
In addition to the normal functions of a reverb, I only want to go into the details that are important to me. The "Start" and "End" sliders are used to adjust the pre-delay and reverb length. The possibility of host-tempo synchronization is undoubtedly intriguing in this case. This opens up intriguing programming opportunities for drum loops when combined with the efficient gate. The Ducker Feature works great as you can control how much you want the reverb to duck. I also love to use the 'Reverse' function. It brings an interesting more experimental flavor to my samples.
Crystalline is well thought out and impresses with many useful details such as unique timing (sync) and ducking, freeze, reverse, a CPU user-friendly and 'help' button, black/white and super easy to use GUI, CPU friendly, over 330 presets, and much more. Unfortunately, you cannot search for criteria or characteristics in the preset browser, and you cannot set favorites. This may follow in an update.
As a result Crystalline is fun and just sounds exceptional. It can sound both clean and experimental. The central timing functions allow complete control over the sound with easy-to-understand options. Here the musician is in the foreground and not the programmer. For me, this refreshingly different tool is one of the best reverb plugins available. Highly recommended!
Strymon BigSky 
The BigSky still remains the best-sounding reverb stomp box in the world. It's a one-of-a-kind piece of gear with a plethora of features that have long served as an inspiration to musicians. But the software version also sets new standards here.
This tool offers 12 fascinating Reverb Machines and flawlessly reproduces the pedal version's distinctiveness and clarity. In some areas, it is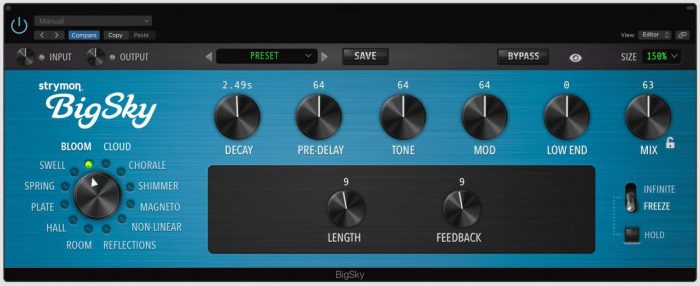 reminiscent of the Eventide Blackhole or Valhalla Shimmer. Nevertheless, it convinces me more because it is extremely versatile and adapts better to the audio signal. Its flexibility also invites you to experiment. For example, the Chorale Program can produce a vovel sound in the reverb tail. It adds a kind of human characteristic. I've never heard that before. I also love the "freeze" and "infinite" features for creating endless drones. "Shimmer" with its included pitch-shifting algorithm is just cinematic magic. Each algorithm has a slightly different control.
Yes, you can't miss the fact that I'm excited. I don't think I had ever heard such a lush or organic reverb sound until I used a BigSky. It is far more than just another reverb plugin.  This tool has a unique personality and is a motivating sound design tool.  BigSky is also fairly easy to use and works great in any context. What a great hardware replica – what a gem!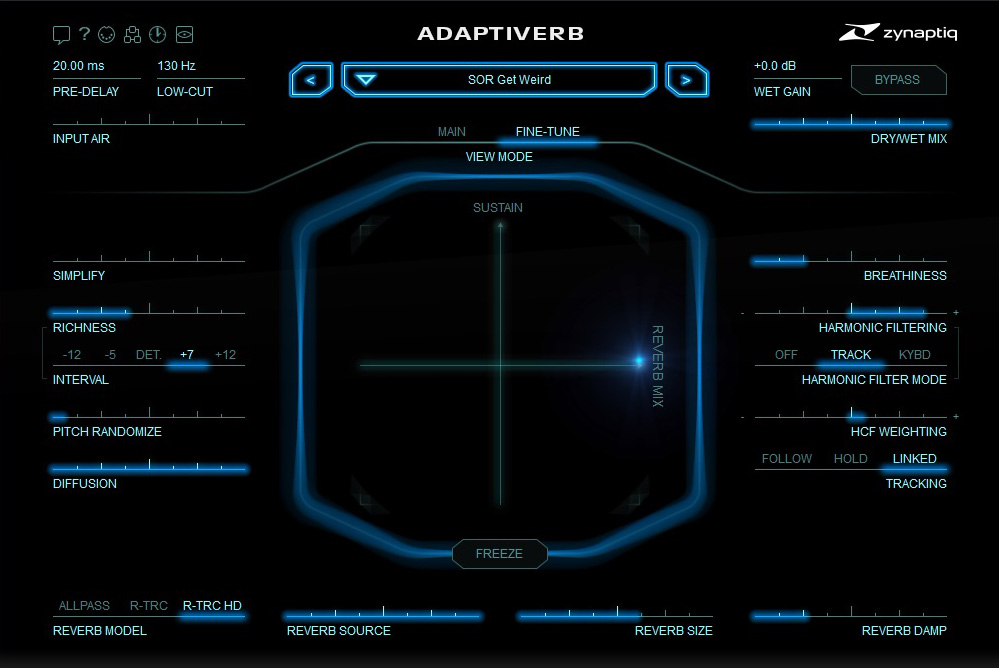 Zynaptiq Adaptiverb
Adaptiverb stands out from the competition. It is the reverb plugin that started the whole category of AI-powered aka "Smart" reverbs, meaning it adapts to the signal in such an organic way that it always blends perfectly, without compromising the clarity of a mix.
But this guy has more up his sleeve. The intuitive resynthesis engine works without the typical room reflections of other digital reverbs. Such a sound character was completely new to me at first. Adaptiverb often adds a kind of sheen to the sound.
At times, you think a synthesizer is playing. The reverb signal literally merges with the sound.
Fantastic!
Stepping through the extraordinary presets alone is a journey into another world. The large control panel has an X/Y level for mix and sustain as well as two circular sliders for controlling richness and harmonic filtering. With this control panel alone, Adaptiverb is very easy and intuitive to use.
Adaptiverb can deliver lusciously tunable reverb tails or even be played like an instrument.  It is perfect for sound design, film music or if you are really looking for something completely new. When creating my sample packs I like to use Adaptiverb for drones, weird atmos and wide pad samples.
Once again, the German-based company Zynaptiq invented a new category of processors with their fantastic technology. The sound design possibilities go far beyond that of most reverbs.
iZotope Neoverb
iZotope Neoverb is the most intelligent reverb plug-in for music producers. Even if that sounds like an exaggerated marketing slogan, I feel the same way! Neoverb analyses your music and applies a tailored reverb automatically – ideal for your particular project.
When I first heard the auto-generated reverbs, I couldn't believe it. With the help of the four-steps Reverb Assistant, Neoverb will listen to your source and adjust accordingly.
Firstly you can easily select the type of reverb with a slider from "Realistic to Dramatic". Secondly set the size from XS up to XL and choose from four tones (Clean, Dark, Bright and Airy). When you've made your decisions, just click 'Next'. Thirdly, Neoverb will automatically apply the perfect EQ setting so the reverb fits perfectly to your mix. Of course, you can also finetune the settings.
There is even a masking meter on board.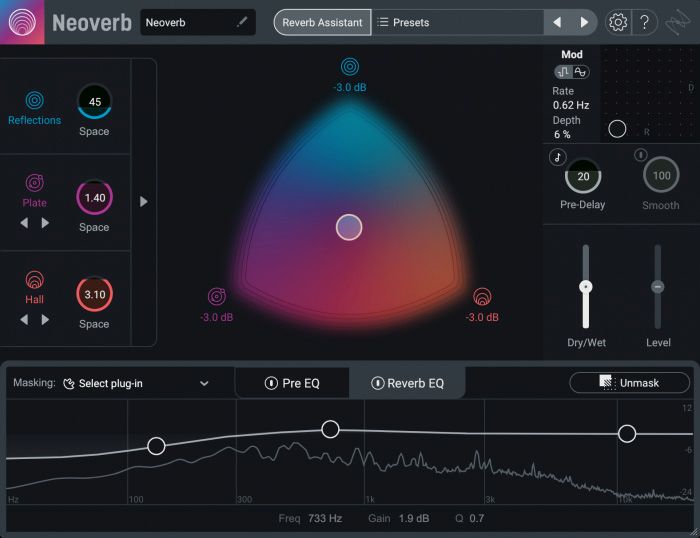 This communicates with other iZotope plug-ins in your session to show you whether Neoverb is colliding with other sounds in your mix. Matching the reverb perfectly to the sound requires a lot of experience. It's often not that easy, especially for beginners. This is where Neoverb saves an incredible amount of time in adapting a reverb to the signal. Even on drumloops/deep oneshots, Neoverb handles low-end frequencies well. It avoids muddying up bassy reverb tails. 100 presets give you a sizable cache of application-specific starting points. For me as a sound designer, Neoverb is like magic!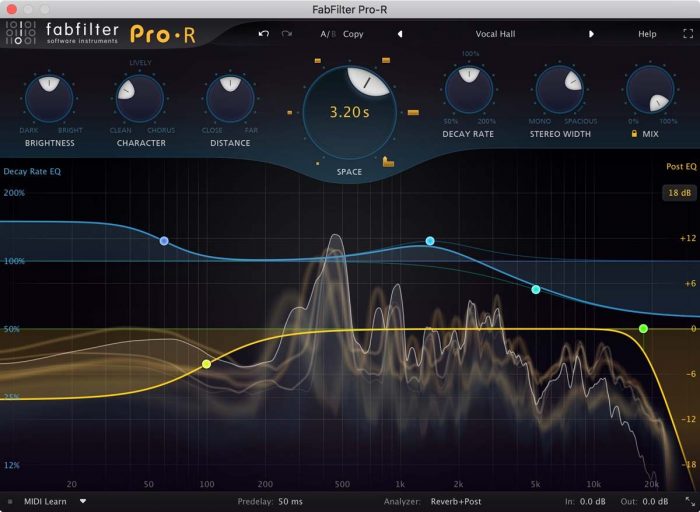 Fabfilter Pro-R

I've been a big fan of Fabfiler for many years. Their reverb is no exception. FabFilter Pro-R works algorithmically and calculates the rooms in real-time. The user interface is easy-to-use and has the typical FabFilter look. You can find your way around quickly. The tool is very easy and intuitive to use. The freely scalable GUI (real-time spectrum analyzer, which also displays the decay time-frequency) is ultra-modern and lovingly designed. A real eye-catcher.
The most important control elements are Brightness, Character, Distance, Space, Decay, Stereo Width and Mix. Unlike some other reverbs, Pro-R does not produce any colouration. The reverb is transparent and sounds smooth. Thanks to the possibility of EQ processing it fits easily into the mix.
You can determine the size of the room seamlessly and don't have to step through various "reverb modules". That makes the workflow a lot easier. This is often less resolved with the competition. In general, the main strengths is its versatility. It's easy to find a reverb that fits into the mix "unnoticed" – simply great.
I like to add Saturn2 behind Pro-R when mixing to give the reverb a certain color and uniqueness. In general, the combination of these two plugins is one of my secret weapons. For me, Pro-R is one of the most flexible and easiest to use plugins on the market.
Eventide Blackhole
Blackhole goes way beyond your average reverb unit. With Blackhole it is possible to create virtual spaces that could never exist in reality. These huge rooms, epic evolving soundscapes and haunting drones are just breathtaking. This unit invites you to experiment. That's something I really like.
Blackhole transforms a simple single not into a huge atmospheric soundscape. I also like to use Blackhole to create an eerie mood, depth, resonance or feedback. Blackhole is arguably one of the best tools for the job.
This lush sounding reverb works also great on guitars, strings and pads. Small rooms can give vocals an angelic shine or turn a normal drum loop into a unique rhythm section.
If natural reverbs aren't your thing, try Blackhole. Eventide has always stood for quality and Blackhole is no exception.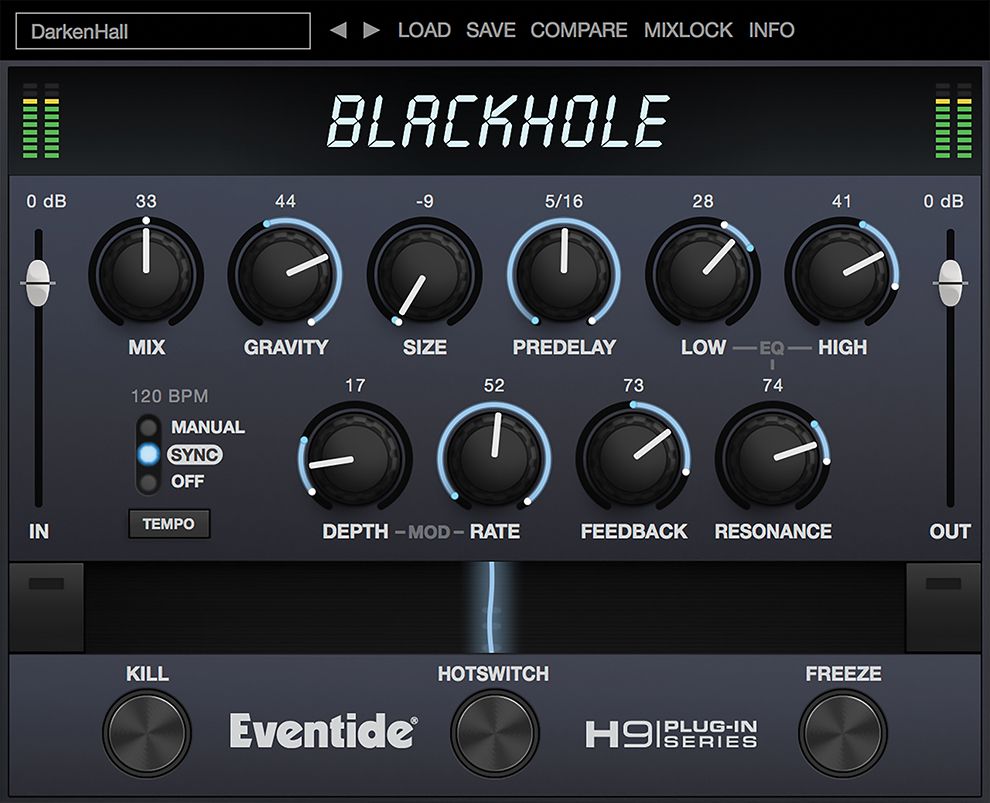 D16 Toraverb 2
Compared to the first version of Toraverb, the unit has been improved in all areas (GUI, features and sound). Here are a few examples: The pre-delay time can now be synchronized with the host tempo. You have 2 parametric EQs, one for each reflection engine. Thanks to the large GUI option, the plugin
can now also be used on high-resolution displays. The browser is just as intuitive to use. I find the ducking option particularly interesting. Ideal for getting a handle on large reverberations in the mix. This function saves you an additional compressor on the reverb channel – very good!
Thoraverb 2 is a great sounding algorithmic reverb. I really enjoy using the tool because it is also very versatile and the presets simply offer a great starting point. Somehow it has its own character. A real no-brainer for this price. Highly recommended!
Valhalla Reverbs
The Valhalla series offers powerful tools with simple interfaces at an affordable price.
Be it Plate, Vintageverb, Room, Shimmer or the freebie SuperMassive. Valhalla offers the perfect reverb for every application. Just depends on what you need.
The impressive sound quality of the respective unit was modelled by classic reverbs and

equipped with extended functions. There are many inspiring and well organized presets. The Valhalla Reverbs are intuitive to use, versatile, lush and have beautiful algorithms. This series is widespread in music circles.
My favourite one is Shimmer. It's perfect for BIG sounds, huge evolving soundscapes and haunting drones. Furthermore, it also works wonders on Vocals and Guitars. It's great that you can pitch shift the feedback signal (5 modes available: normal, dual, reverse and dual reverse.). This expands the sound design possibilities enormously. In addition, the controllers can be operated in real-time without artefacts or noise. This is not the case with every manufacturer. Are you looking for a reverb that can create huge, ethereal, and out of this world sounds? Then Shimmer is the answer.

U-He Twangström
I use a spring reverb to get a different, unique analogue sounding effect on my synths, drums or even effects. To achieve this I can recommend the Spring Reverbator U-He Twangström!
With its state of the art modelling and deep modulation (morphing filter), Twangström is extremely flexible and the presets are simply amazing.
I love that wonderful dark sound. In my opinion, Twangström is simply the best spring plugin to date. Many of my loops were sent through this tool. It has its own vintage character. Highly recommended!
Finally a little tip on the side: Also, Max for Live Convolution Reverb offers multiple spring reverbs – and it's for free!
Seventh Heaven
Convolution reverbs have a reputation for being lifeless in the past. That isn't even close to the case here. It's more than an algorithmic reverb in terms of sound and functionality.
I believe the truest software replacement to the Bricasti M7 is Liquidsonics Seventh Heaven (Professional). This tool not only has a great sound, but it also has a lot of tweakability. It's extremely versatile, with a wide range of preset settings (the Pro Version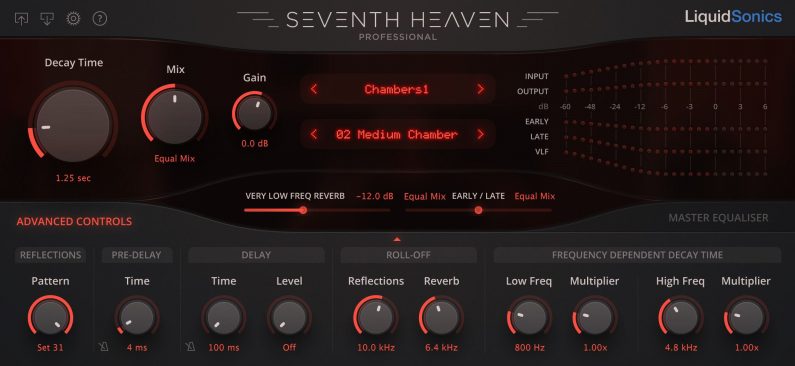 includes every single preset available in the Bricasti M7) and a simple and easy user interface. In his rack, a friend of mine has the well-known Bricasti M7 hardware device (costs more than 4000,- Euro). In a direct comparison, the plugin likewise produces stunning effects. To get all of the presets available in the Pro Version, you'll need to download about 10GB. Even while the low-cost ordinary version (500 GB) is limited in many ways, with only 30 presets, a simplified UI, and fewer control choices, it is nevertheless highly recommended. I believe it will suffice in the majority of cases.
Seventh Heaven sounds amazingly genuine, is simple to use, and is without a doubt one of the best reverb plug-ins on the market.
This was my personal list of the Best Reverb Plugins, and I hope you enjoyed reading this. I will update this category regularly.