Best Multi FX Plugins
A Multi FX plugin works much like an instrument rather than an ordinary signal processing plug-in. By combining various effects, you may increase both the creative and operational options. These tools should, above all, be flexible – a type of Swiss knife for sound designers and a playground for sound enthusiasts at the same time. Multi FX plugins inspire me a lot, and I use them to keep my loops and one-shots moving. In my opinion, they belong in every DAW. Some of the following plugins are so flexible that they resemble a modular synthesizer, with nearly limitless patching options. This is my personal list of the best Multi FX plugins.
For detailed specifications about the following delays please visit the linked websites of the manufacturers.
Baby Audio Transit
You can quickly create risers, sweeps, epic drops, motion effects, big washes, and build-ups using the powerful tool Transit by Baby Audio. Choose from 18 effect modules that are custom-made to be used as transition methods and have everything just through that one switch. The modules can be turned on and off or re-arranged as needed. Utilizing a single plugin rather than multiple plug-ins was one of Baby Audio's main goals in order to easy workflow.
Transit includes a great GUI (switchable black/white), 300 well-programmed presets, decent CPU load, and a nice randomize function. It's highly user-friendly and comes with a useful Quickstart that guides you through a 7-step how-to while highlighting the different features of the plugin.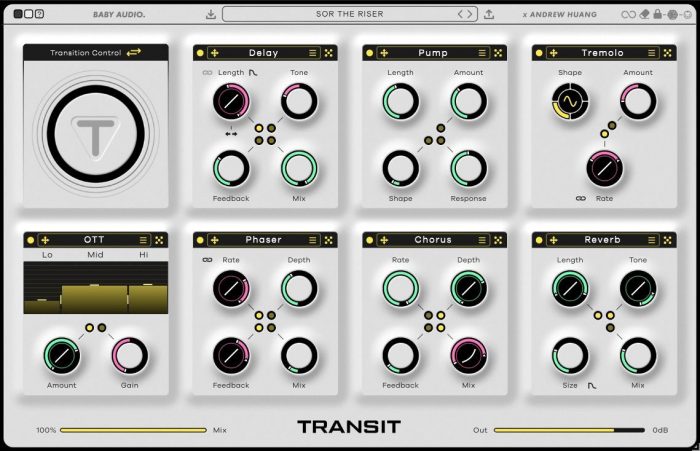 What's really useful: That the position of the "T" knob is retained even when switching presets, so you don't have to turn it again for each preset. This little detail, which not all manufacturers provide, helps you save a lot of time. I find it incredibly inspiring how quickly you can create an intro this way or get new ideas!
Achieving such impressive results in the DAW using automation curves takes more work, a lot more work! And yes, there are similar multifx plugins that do nearly the same thing, but for me, Baby Audio has once again managed to offer it in a particularly intuitive and perfect way. It appears to be more useful and effective. This tool can also be used to quickly and intuitively create loop variations. Everything is automatable and here begins the fun. Or if you use the mix button with e.g. 10%, interesting sound changes are possible in the background of a loop. With Transit you simply save a lot of time. A streamlined process that allows you to work quickly without leaving your creative flow has replaced the usual chain of plugins. It's simply a dream for me as a sound designer and also so much fun!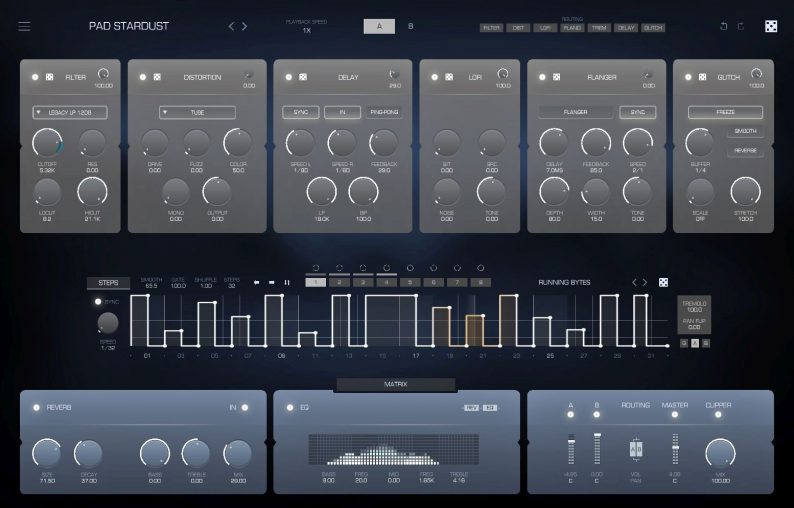 DS Audio Tantra2
As a long-time and enthusiastic user of Tantra 1, I was extremely excited about the successor. Tantra 2 didn't disappoint. It's a rhythmic multi-effects plug-in that can generate fascinating rhythmic sequences from any source material in a very intuitive way. With this, breathtaking results can be achieved with just a few clicks from even the simplest sounds.
Filter, Distortion, Delay, Lo-Fi, Flanger, and Glitch are six two-stage effects that can be used in any order. Each effect has two stages that can be run in either series or parallel. The Modulator Section is the beating heart of the system.
Use complex 32-step envelopes with configurable form and multiple operating modes to build unique rhythmic patterns. Impulse responses from damaged microphones, ancient speakers, and other specific equipment are included in the Convolution section. The "intelligent" randomizer algorithm, which generates fresh custom settings on the fly, is one of my favorites.
With its very clean design and great new modern GUI, this tool has been improved in many areas and is in my opinion even more intuitive to use than the first version. While with V1 you sometimes had to lower the hard attacks with a Transient Designer, the results are far more pleasant with the successor. This amazing plugin brings me far closer to my creative vision and even shocks me with effect combinations I didn't realize I needed until I heard them. Tantra 2 is an excellent sound design and creative mixing plugin, which I suggest for all kinds of electronic music.
MeldaProduction Melda MXXX
Melda MXXX is the ultimate multi-effects software. This tool, in my opinion, can do anything you can think of. It's a modular beast that houses all Melda effects in a simple interface complete with an automatic routing matrix, super-versatile modulators, and more. It allows you to perform everything from basic equalization and compression to the most bizarre and creative processing.
You can make up to 16 (multi) parameters accessible on the Easy page of MXXX to ensure easy handling of your effects chain despite the complexity of the plugin. 16 well-equipped modulators (LFO, volume/envelope/pitch follower, random) provide you with even more creative control over your sound.
It can function as a straightforward mastering suite, a powerful sound creation tool, or a more traditional, self-contained processing chain. There are over 70 top-quality processors and more than 500 presets are clearly presented in a browser with categories and favorites function.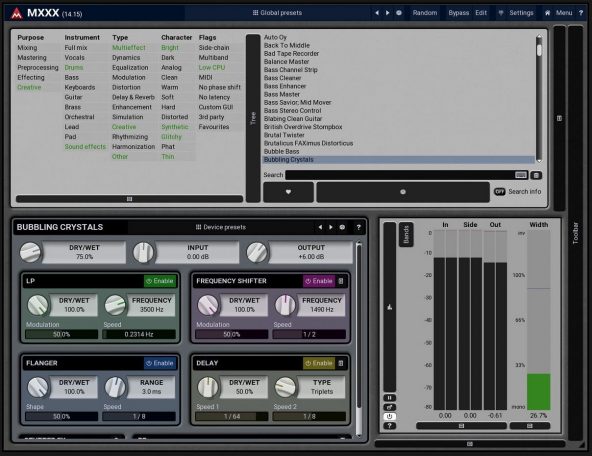 There is also an online community that shares its work with MXXX. On almost every level of this Plugin, there are also useful Random buttons that produce interesting results.
MXXX is an intriguing modular effect monster that isn't for beginners. If you are familiar with routing, though, you will soon see the plug-vast in's creative potential. It is the most costly Multi FX plugin in this category, but it is also a sound designer's best friend. Alternative: MXXXCore is a cost-effective approach to acquire MXXX, the ultimate effect. It's inexpensive, and you can only purchase the modules you need.
Unfiltered Audio Byome & Triad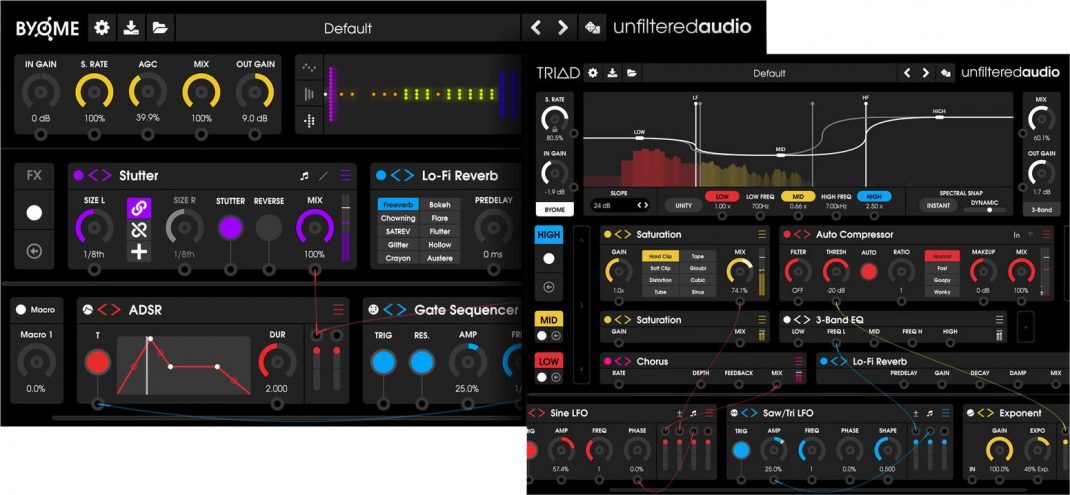 Unfiltered Audio BYOME
BYOME (aka "Build Your Own Modular Effect") is Unfiltered Audio most energetic effect plugin yet. It combines Unfiltered Audio's limitless modulation options with a collection of over 40 effect modules that include great-sounding reverbs, delays, modulation, distortion, and more.
The quantity and diversity of mod sources on offer are endless and outstanding, with everything from LFOs to envelopes to randomizers to an XY pad, Step and Gate Sequencers, and a module for using Roli's Lightpad hardware controller. For control via DAW automation, BYOME also offers eight macros, each of which can be assigned to any number of targets. The Spectral Follower is a true standout. Byome is a unique tool and a game-changer for me. Definitely one of the most innovative multi-fx plugins I have ever gotten my hands on. If you're looking for a creative all-in-one solution with multiple high-quality FX modules and over 400 presets, just try this one! Not CPU-friendly, but definitely worth it.
Unfiltered Audio TRIAD
TRIAD, BYOME's big brother, is a unique multi-band processor on the same concept! TRIAD expands on the incredible capabilities of its single-band BYOME predecessor by giving the multitude of onboard effects a whole new level of control. It allows you to split your audio stream into three bands and apply BYOME effects to each band separately, giving you a lot of creative freedom.
Increase the craziness with state-of-the-art effects processing, flexible modulation, randomization capabilities for each of the bands, and hundreds of interesting effect modules that may be used in literally countless combinations. With TRIAD, you can do it in a multi-band setting, which means you can use some effects on simply the low end of a sound while using others on the mids or high frequencies! Triad is one of the most advanced multiband processors.
Both plug-ins are not exactly cheap but are often available as a bundle at a special price. They are one of the best Multi FX plugins.
Native Instruments Guitar Rig 6
NI Guitar Rig 6 is a great tool for sound design, even though I'm not a guitarist. In any case, every Komplete user has access to this intriguing tool. Through Guitar Rig, I send a variety of signals. Drum loops, vocals, Sythloops, Atmos sound, and so on are all available.
Guitar Rig comes with a plethora of effect modules, as well as advanced routing and modulation options. You can often get stunning and unexpected results by simply stepping through the presets. After a few more tweaks, you'll have a distinct tone.
The plugin's versatility comes from its integration of many NI products, including the Mod Pack (Choral, Flair, Freak, and Phasis), various reverbs, compressors, and more. For me, the tractor's 12 series effects are particularly noteworthy.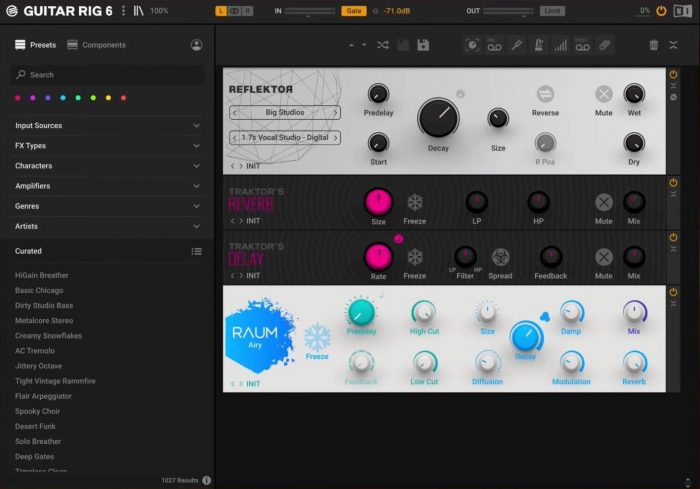 You can come up with some interesting rhythms in a short amount of time. The combination of a modern aesthetic and straightforward functionality has proven to be extremely successful. The tool has far-reaching applications beyond guitar, and it's a fantastic sound design construction kit in my opinion.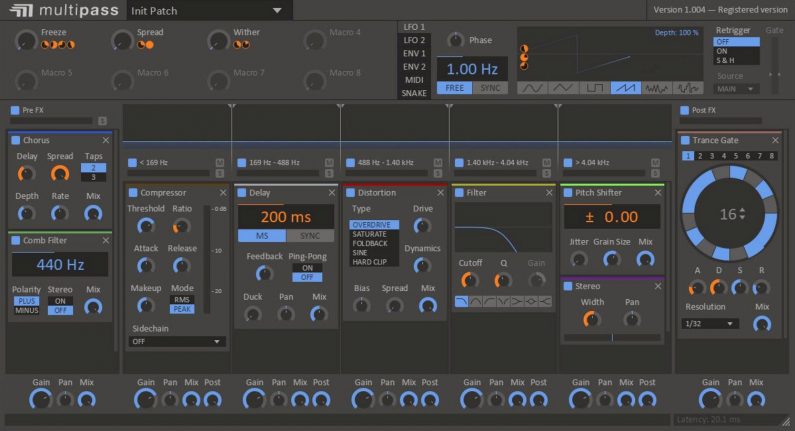 Kilohearts Multipass
KiloHearts Multipass is a multi-band effects processing package and one of the most elegant modular solutions I've seen in software of any sort. It comes with a simplified workflow, a straightforward and great user interface, and a variety of "snap-in" effects, most of which can also be purchased individually.
Multipass can split your audio signal into up to five frequency bands, each with its own set of effects. It supports effects such as Delay, Compressor, Corus, Filter,
Limiter, Trance Gate, Bitcrush, Haas, Format Filter, Pitch Filter, Resonator, and many others, as well as the amazing sounding tools Disperser and Faturator. The only limiting factor is the number of snap-ins purchased.
You may mix everything together in a simple manner and create something entirely unique. With two LFOs, two envelope followers, and a pitch follower, Multipass has also great modulation options.
It's fantastic to be able to place effect components anywhere you want in the signal route. The modulation arrangement transforms the surroundings into a very creative and dynamic processing environment. It's a clever, intuitive concept with a lot of love for details. For example, I like the Duck function of the Delay Snapin. It would be great if you could still load third-party plugins. Even so, it's an incredibly flexible multi-FX plug-in.
Eventide H3000 Factory
This is a re-creation of several key algorithms from the famous H3000 Harmonizer® Hardware effects processor.
H3000 Factory provides a modular interface to combine up to 18 effects blocks together in a practically limitless number of configurations. Included are delays, pitch shifters, filters, mixers, amplitude modulators (or VCAs), and an assortment of modulation sources including two low-frequency oscillators, envelope generators, and more. You can manipulate the effects in real-time or synchronized to a session.
The H3000 is respected by many top engineers as the holy grail of effects. Besides, it has the potential to go very deep. It would be hard to cover everything in this overview with such a deep unit capable of so many sounds.
All in all, it's an iconic multi-fx plugin that comes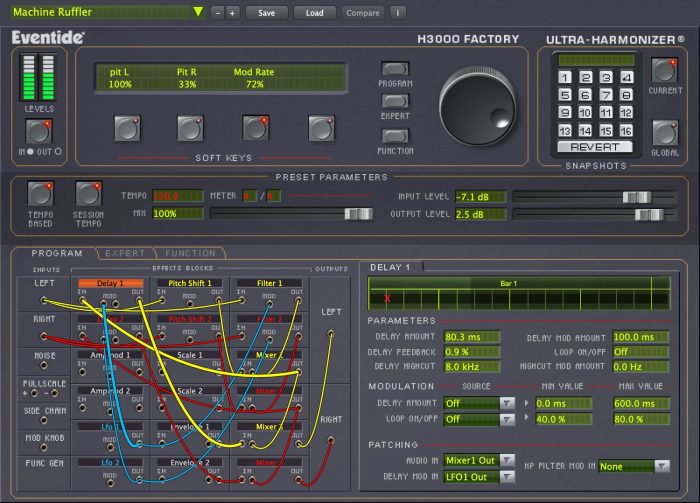 with all the legacy presets (from the legendary hardware unit) as well as some great-sounding new ones.
The micro-pitch-shifting/vocal algorithms are simply breathtaking. This effect adds a tiny delay to one side and moves the left and right sides 9 cents up and down, respectively. It adds a soft widening effect to vocals, guitars, or synths, giving them a slight 3D thickening sound. If you add it subtly, you won't even notice it, but when it's muted, something important is missing. That shows the great sound quality.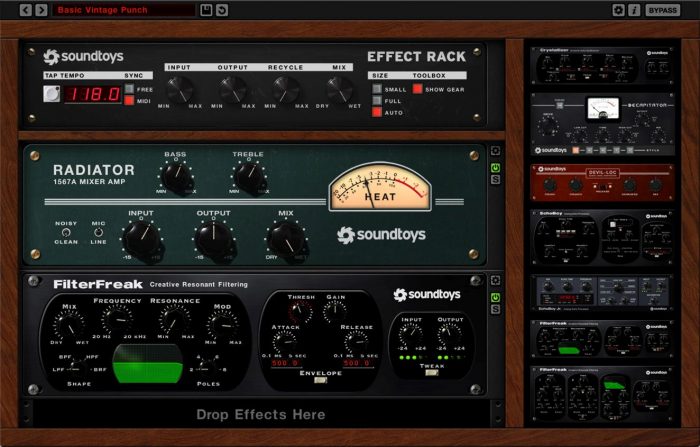 Soundtoys Effect Rack
The Soundtoys Effect Rack combines high-quality effects to create a versatile multi-effects system.
Create custom effect chains by stacking effects. Crystallizer, Decapitator, EchoBoy, FilterFreak 2, MicroShift, PanMan, PrimalTap, Radiator, Tremolator, and Little Alterboy are among the effects available. Many of these one-of-a-kind effects have long been standard in the industry.
The Control Panel, which holds a range of global controls, is at the top of the rack. You may set the rack to MIDI tempo, Free tempo, or tap in a pace using the Tempo controls. There are also hundreds of professionally made presets to help you get
started. Some provide bizarre outcomes and let you muck about with your audio! A very interesting feature is the feedback loop that sends the output of the rack back to the input. It's incredibly handy, and it's also a lot of fun!
These creative tools are modelled after analog gear and produce a "vintage warm" feeling that will catch people's attention. You might think in advance that delay, reverb, saturation, EQ, etc. are already included in every DAW, but I am convinced that these plugins will take your sound to the next level. However, if these plugins didn't sound fantastic, they wouldn't be nearly as popular.
The Effect Rack is not cheap, but for what you get in exchange it's great value for money.
Output Movement
Output products have been inspiring me for a long time. Movement is no exception.
Anything that passes through this powerful multi-effect in real-time gains motion and rhythmic textures, as well as uniqueness and interest. Any track or live performance comes alive with movement.
This tool comes with two different modulation sources. You'll find a sidechain, LFO, Step Sequencer, rhythm modulation, unique sidechain modulation, analog filters, EQ, delay, distortion, compression, and reverb effects, as well as a sidechain, LFO, and Step Sequencer.
It's insane to have the ability to modulate any parameter with any rhythm. I like to use Movement to make rhythmic textures or faux-plucks out of pads and static Atmos sounds.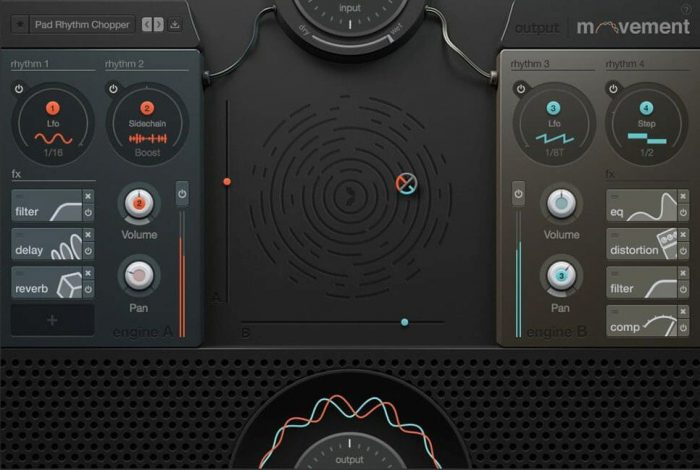 This tool is frequently used to give a sound that extra something. Movement is a workhorse thanks to its intuitive GUI and X-Y FX-engine control, as well as imaginative and unique rhythm-based effects and +300 well-programmed presets to get you started. The possibilities are limitless.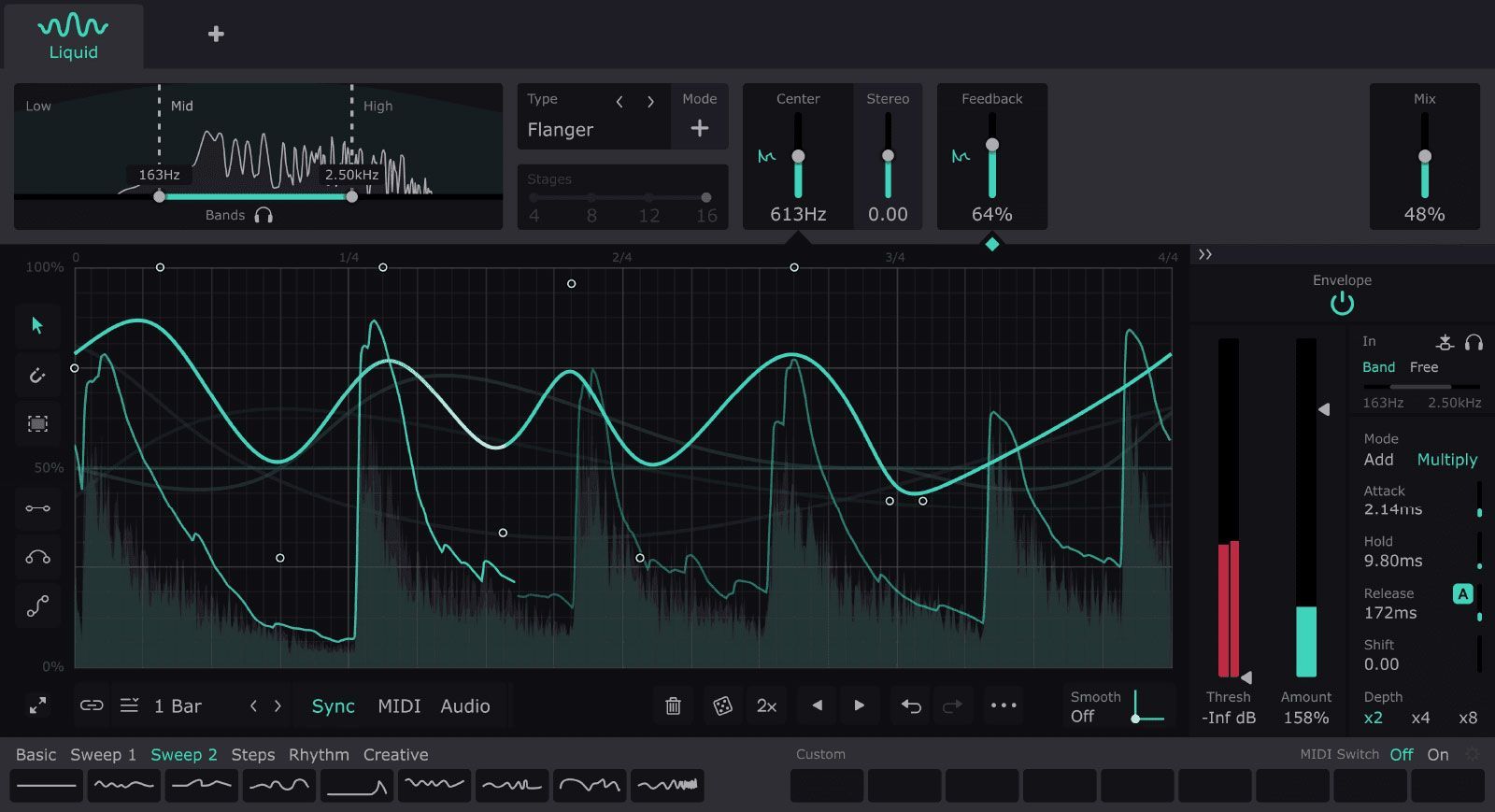 Cableguys Shaperbox 3

The brand new ShaperBox 3 is a slick multi-effect toolbox with an easy-to-use interface. It combines now 9 different great-sounding effects (Time, Drive, Noise, Filter, Liquid, Crush, Pan, Volume, and Width). You can modulate them through a clever and well-designed intuitive GUI. In the new version, waveform editing is more intuitive than ever. You can also trigger all ShaperBox effects with any sound now. For instance, you could program your synth to start the drive effect each time a snare hits. Also, the reworked browser with its cleverly categorized 600 presets works great.
In Shaperbox 3 there is literally an unlimited amount of combinations of effects you can get. It revived my entire sample library. Moreover, it's a refreshing new way to change the way I normally produce loops. The possibility of using audio as an internal trigger opens up great possibilities. The envelope follower's multi-band properties also allow the use of external side-chaining and internal filters.
I like the fact that this plugin often leads to completely unpredictable and unique sounds. You can easily create wild, audio-mangling presets with a tremendous amount of fun. With ShaperBox, the focus is generally on rhythmic modulation using precisely modulatable LFOs, which also makes the plugin absolutely unique. Above all, the combination of several Shaper (or even several Shaperbox 3 at the same time) allows the sound to be extremely deformed beat-synchronously (if desired). What I think is great compared to the competition: Others work a lot with reverb and delay. This reduces the transparency and assertiveness of the signal. Shaperbox does not contain any modules that blur the signal. The results are always direct and straightforward.
Such precise and sophisticated rhythmic sound manipulations can hardly be created in such a short time with any other plugin. It's definitely one of my favorite Plugins when it comes to sound design. Highly recommended!
This has been my personal list of the best Multi FX plugins, and I hope you enjoyed reading this. I will update this category regularly.