Best Granular Plugins
For me one of the most intriguing methods for developing new sonic textures is granular synthesis. It's a unique method and an invaluable tool for sound design. An audio source is divided into tiny audio grains by granular synthesis. These little grains can be controlled, re-arranged, modulated, filtered, stretched, fed back into themselves, and simply shaped in a variety of ways. That means if you're willing to experiment with the following best Granular Plugins, there are a lot of new and inspiring sounds that are possible. The joy of experimentation is always a core factor in my sample pack programming. Similar to sampling, using various audio sources can result in completely unexpected outcomes that could lead to the creation of new and exciting musical results. As a result Granular synthesis is an invaluable tool for sound design. It allows you to manipulate any sound in many new and exciting ways.
This is my current list (updated regularly) of the Best Granular Plugins. For detailed specifications please visit the linked websites of the manufacturers.
Dawesome Novum

Dawesome has just released a new granular synthesizer called Novum. It employs sample-based work and inventively combines subtractive, spectral, and granular synthesis. The novel decomposition algorithm creates several layers from a sample for this purpose, each of which can be edited separately.
One sample can be split into six layers by its granular engine. Each layer is represented by an envelope and a "tone color" that is essentially a stationary sound. All six layers may be played simultaneously, and the original sample will be reproduced exactly.
The user interface is clean, and after a short while, you can navigate it with ease. The extremely intricate parameter modulation encourages experimentation and the discovery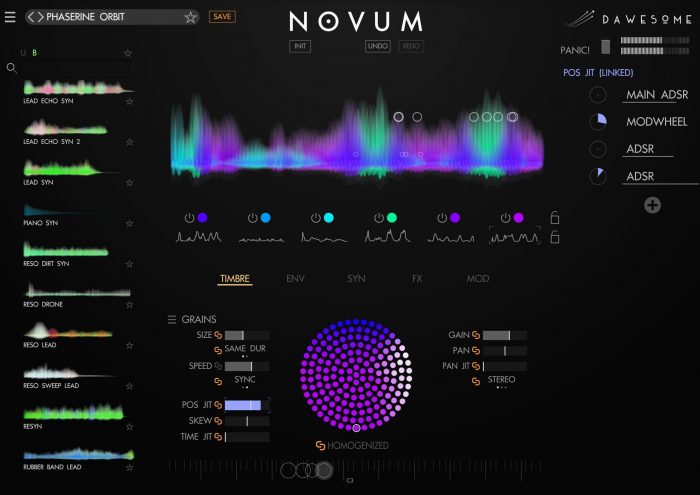 of new sonic horizons. Drag and drop allows you to swap out the tonal elements and envelope shapes of different samples. Novum will appeal to both experienced sound designers and those who are just getting started in the field thanks to its extensive sound-sculpting capabilities and the ability to import your own samples into any of its 300 presets. If you like Granular Plugins you need to check this. Novum is an absolutely magical synth in a different league. I am impressed!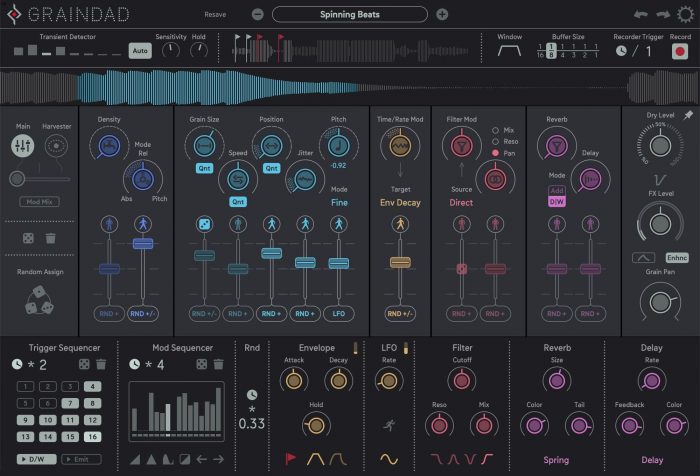 Sugar Bytes Graindad
I've been an avid user of sugar bytes plugins for many years. I was all the more excited when I found out that a granular plug-in is now also available. Graindad is a distinctive granular plugin with a lot of intriguing concepts. Every granular plugin's core component, the grain engine, has the capacity to play back up to 64 grains simultaneously in various configurations. You have the option of using the process with live audio or editing already-existing audio files. Furthermore you can record in sync with your host clock or even trigger it directly via MIDI, which is a neat idea.
With the help of the engine's 12 main parameters, you can experiment with looping, stuttering, time stretching, glitching, pitch shifting, reversing, or harmonizing, among
other creative effects. Of course, there are also the standard granular characteristics like density, grain size, position, pitch, and many others. The dual modulation engine is the plugin's standout feature. You get a variety of standard modulations, including envelopes, LFOs, step sequencers, modulators, etc. There is much more, though, such as the Harvester Modulation engine, in addition to the usual things. It's a great concept for modulation.
Sugar Bytes describes it this way: "The Harvester modulates all 12 main controls at once. The distance between the Harvester and parameter objects defines the modulation depth. The parameter objects have "moons" that can be recorded as automation or randomized for additional layers of motion. On the Auto-Pilot Page, the Harvester can move between 12 breakpoints, which can also be triggered by MIDI notes for performative control. The power of the harvester is hard to put into words. Hours of fun and surprises, and endless sonic possibilities await. Of course, there are many more features that are explained in detail in the manual."
Even if this sounds a bit complicated and takes some time to get used to. The results are absolutely convincing. Sugar Bytes also has built-in many ways to randomize parameters. Last but not least there is also a impressive multi-effects engine included (like multimode filters, reverbs, shimmer, delays etc). For me, Graindad is currently one of the most interesting and well thought-out granular plugin out there. It's such a great playground!
Output Portal
Audio is loaded into the device's internal memory before being processed in a variety of ways when using granularization as an audio effect. The audio is divided into segments known as grains. These can then be individually pitched, reordered, scale quantized, panned, filtered, stretched, reversed, etc.
What sets Portal apart from other granular plugins is that it has the ability to retain the character of the original sound (in a new and musical way). Portal is less concerned with creating abstract elements, as is otherwise known from granular plugins (cloudy pads / ethereal textures etc.).
Of course, if you want to completely mutilate the sound, you can do so.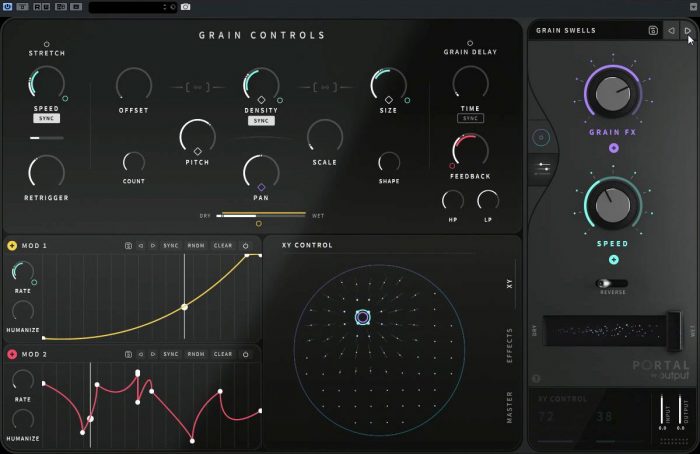 Portal's impressive range is demonstrated by the built-in 250 presets, which are organized into groups based on instrument sounds such as "Drums", "Guitars & Keys" and characteristics such as "Delay", "Pitch, or "Stretch & Smear".
Last but not least the distinctive XY Macro display pad is simply fun to use. Using Automation here is simply fun. A disadvantage is that portal is quite expensive.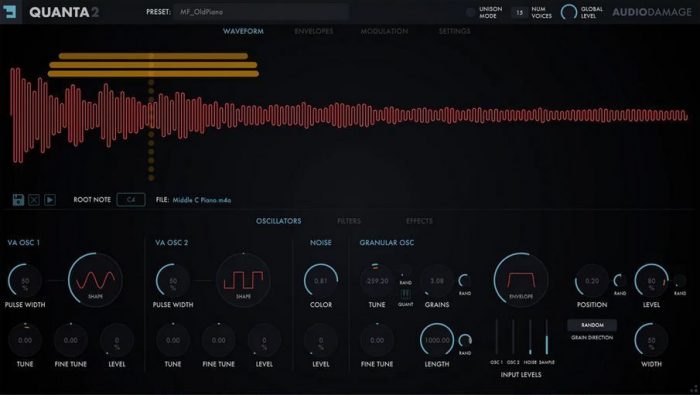 Audio Damage Quanta 2
A completely revised version of Audio Damage Quanta 2 was released after some years. Two virtual analogue oscillators are now available in Quanta 2, providing twice as many sounds at once. With these two oscillators, Audio Damage advises that you can experiment as you please and "use one for a sub bass, send both to the grain engine, granularize one and leave the other normal."
Reverb, stereo dual delay, chorus, and other effects are now present. A more user-friendly right-click context menu, rather than the original mod matrix assignment panel, is available for improved workflow.
This feature was eagerly awaited: Root Note Detection and Assignment, which means the plugin now tries to identify the root note of samples, is one of the notable improvements. Naturally, you can custom set this as well. In order to match the key of your productions, you can also restrict the pitches of grains to a specific set of notes. In addition four new macro knobs have been added to the modulation panel, and the functionality of LFOs and envelope generators has also been expanded.
Every preset from the original Quanta, including those from all updates, is included in Quanta 2. Although Audio Damage has made some changes, Quanta 2 remains compatible with its predecessor and can even read presets created with it. That's impressive. I find it unusual how musical it is with the tuning/quantizing and the rhythmic envelopes. Audio Damage has released an impressive update. Recommended.
Arturia Efx FRAGMENTS
Efx Fragments is another granular effects processor that lets you split, transform and rebuild the sound. Compared to some other providers, this tool makes granular synthesis accessible quickly and without a long learning curve.
The manufacturer has made an intuitive user interface that enables amazing effects with just a few controls and the resizeable GUI shows what is often difficult to visualize with granular synthesis.
In advanced mode the plugin shows what is possible. Here you will find features such as macros, function generators and a step sequencer. There is also a paner and two FX slots. I also think it's great that an integrated tutorial explains the most important functions and thus enables a quick start.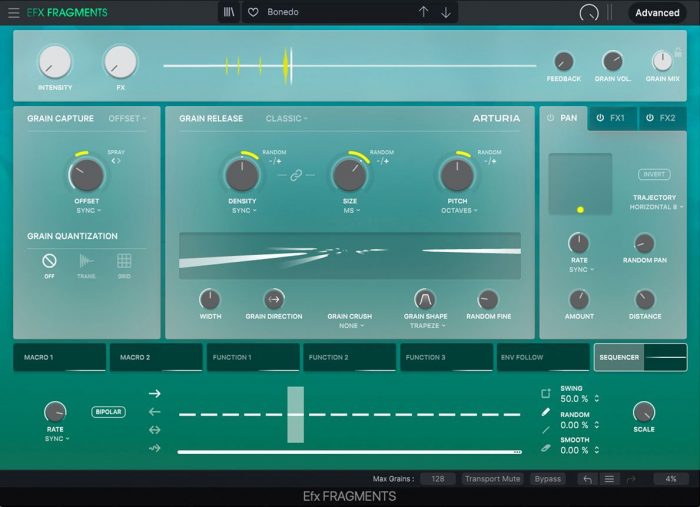 This tool offers three main algorithms: Classic, Rhythmic, and Texture. There is an option to sync the recording to the incoming audio by linking it to either the grid or the incoming audio transient. This makes it easy to create interesting rhythmic patterns that perfectly match the tempo of your track. With rhythmic grains you can also transform a relatively simple synth pad into a sound with movement and texture. With just a few clicks you can turn boring sounds into a stuttering beat or an ethereal landscape. You can also set scales and chords in Fragments.
Compared to some other plugins such as Output Portal, Efx Fragments with its intuitive Preset browser enables granular synthesis without a long training period. The in-app tutorial is also an interesting addition and allows beginners in particular to find their way around. Unlike other tools, Fragments offers more of an "out of the box/musical" approach to my ears. I find it more easy to get great results with it. Granular synthesis doesn't have to be daunting.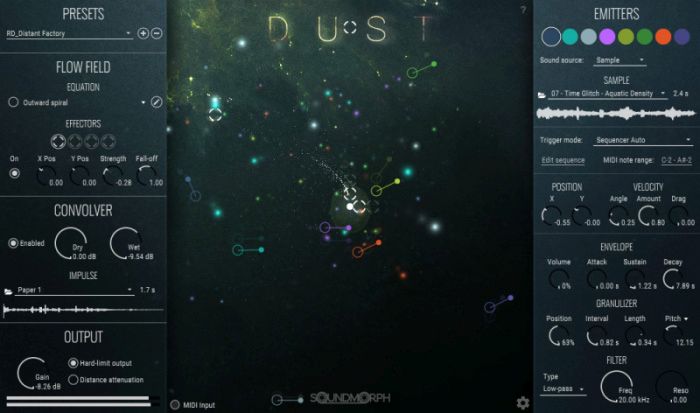 Soundmorph Dust
This Plugin is different! SoundMorph Dust is an amazing sample-based granulising synthesizer and effect which using real-time particle simulation. It is one of those few VSTs that already has a great fascination and inspiration thanks to the breathtaking GUI.
Dust is perfect for anyone who loves creating or sculpting sounds, as it offers practically unlimited possibilities. Intuitive particle settings, granuliser and filter settings, flow field equations and edit convolution hall settings result in interesting and unique sounds. I also like the fact that you can import your own samples into Dust.
The extensive sample library that comes with Dust can be altered in an unlimited number of ways utilizing the granular settings. To create the dark atmosphere of a science fiction film, use this tool. Additionally, it's simple to make that gloomy, (dub) techno atmosphere here. It's quite easy to produce lovely textures that may be used in your track or blended with your synths to give them aural richness. The learning curve at first seems quite steep but after a while, you become familiar with its engine. It's really worth it
In conclusion, I have to say I love Granular Synthesis and these were my best granular plugins. I hope you enjoyed reading this.