Vintage Movie Vocals Bundle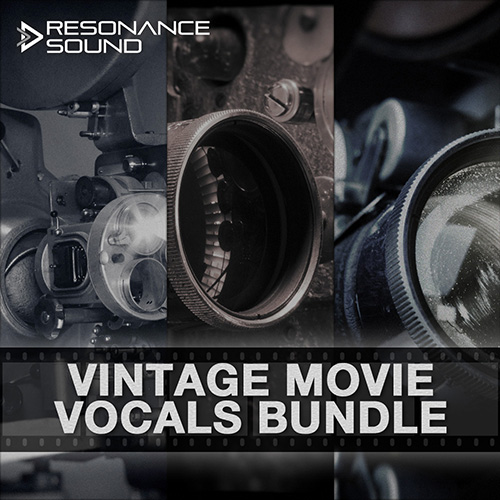 PRICE:
52,95 € (incl. VAT)
29% DISCOUNT
Regular Price: 74,85 €
FEATURES:
– 2,5 GB Content
– 2011 Movie Vocals in total
– 1828 Vocal Phrases
– 183 Vintage FX Samples
– 100% Mono compatible
– EXS24 & Kontakt Sampler Patches
FORMATS:
– 24-bit WAV Stereo
Welcome to the Resonance Sound Vintage Movie Vocals Bundle – over 2000 vintage vocals and sfx samples in pristine quality and perfect stereo (100% mono compatible!) – suitable for all EDM related music genres for a tasty price of 29% discount compared to the single packages!
Vintage Movie Vocals Vol.1
Aaaaand action! With "Vintage Movie Vocals", Resonance Sound brings you a premium collection of beautiful, remarkable movie phrases and effects. Carefully processed to give you crystal clear and perfect-stereo sound (100% mono compatible). You`ll be amazed when adding these samples on top of your next production. 751 vocal prhases and 82 sound effects can do what`s shown in the demo below – and just so much more! Aaaand cut! Get it!
Vintage Movie Vocals Vol.2
Movies & Music – so many people will agree they make an awesome couple. Reshaping the use of vocals in music production since Vintage Movie Vocals 1, Resonance Sound got ready for delivering the next treat: Vintage Movie Vocals 2 might be just the perfect (pre-) christmas gift to get you all creative over the holidays! No matter whether you wanna spice up your kick-ass dubsteb track, add a mysterious touch to an epic trance break or mangle voices like crazy and come up with something dancefloor's never heard before – get ready to (re-) discover your love for movie dialogs, processed with the latest professional armory of Resonance Sound Studios! Fire up your DAW and get going – and you might not wanna miss out on our carefully arranged audio demo with some serious inspiration in there. Houston, we definitely don't have a problem!
Vintage Movie Vocals Vol.3
Many people will agree there's nothing better during the cold season than nestling down in a blanket, right in front of a cozy chimney, ready to hear some (pre-) christmas stories. But: don't you agree what writing a story yourself in your equally cozy studio sounds extremely appealing? With Vintage Movie Vocals 3 just arrived, this easily becomes true for your next EDM tune – don't we all know that a famous movie quote often tells a far better story than the movie itself! So get up and ready, fire up not only your chimney but also your DAW and add just the special spice to your dancefloor smasher! 465 vocal phrases and 40 effects have been beautifully wrapped by the studio heroes of Resonance Sound, containing movie vocals polished in a very vintage way, using the latest armory of professional sound design. Experience how some charming, charismatic phrases make your new tune shine brightly – no matter whether you're into Minimal, Deep House, Dubstep, Trance or something else EDM. All samples had been carefuly processed and reworked to give crystal clear sound with perfect stereo (100% mono compatible!). Now go ahead, make my day!
Reviews by Artists & Press about the Bundle

Keys Magazine:
[…] Den besonderen Reiz macht die authentisch wirkende Patina aus. […] Eine eingeschränkte Übertragunsgqualität, die an Kurz-, Mittel- und Langwellensender erinnert, garniert mit Rauschen, Unsauberkeiten wie atmosphärischen Störungen, Knistern und Verzerrungen, katapultiert den Hörer Jahrzehnte zurück und lässt den Charme alter Sendungen wieder auferstehen. Auch Neben- und Hintergrundgeräusche, die zur Sendung selbst gehören, sind mit dabei. Ungeachtet dessen sind die Stimmen und ihre Botschaften danke gefühlvoller Restauration verständlich. Die einzelnen Ausschnitte wurden sinnvoll zusammengestellt, sodass sie auch in einem musikalischen Kontext zu längeren Passagen kombiniert werden können. […] einzigartige Sammlung aus Mitschnitten alter Radio Shows […] Hohe Authenzität Rating: 3/3
Reviews by Artists & Press about Vol.1

Cutline:
As the vintage Ronseal advert says "it does what it says on the tin." Here Resonance Sound give you a chunky pack filled with vintage movie samples that instantly conjour up the golden era of the big screen and will add some instant old skool sampler style sheen to your tunes. We've already found a space for one of these sample in a track and there's loads of usable bits in here for all kinds of genres. Great stuff! Rating: 10/10
Reviews by Artists & Press about Vol.2

Nueko.net:
An arsenal is essential to enrich your Dubstep productions, Trap, Electro, Progressive, House and Trance with exciting dialogues and vocals particular, all divided into folders to facilitate your research. All samples were carefully elaborated in studies of Resonance Sound, cut, edited and cleaned to be used in any musical context.

Soundbytes Magazine:
But the samples themselves were cleaned up in Resonance Sound's high-end studio, edited and mastered to give you that production-ready sound. What I like about this pack is the variety of vocal phrases it offers – it's really great for spicing up breaks and drops in a song. If your arrangement is lacking something in the vocal phrases department, Vintage Movie Vocals definitely has the samples that can take your track to the next level.

Ohmlab Music:
All of that plus a perfect 5 star rating from the customers who have already grabbed it and a couple of big thumbs up from OhmLab! All samples fall under a Creative Commons license and you can easily make them work in any kind of modern music production, from Dubstep and Dn'B to ambient electronica and techno
Reviews by Artists & Press about Vol.3

Jason Nevins:
Nice collection of old movie dialog which could be useful for the right situation. The way to make these work would probably be best cut up and edited to make interesting sayings. The quality is quite good and sounds like they ran the audio through processing to make it more interesting. Rating: 8/10

Keith Shocklee:
What a splendid idea! Juxtaposing movie quotes to EDM beats to add intrigue. This is great mix for those with a more film or literary bent, and film vocals are perfect for introductions or interludes to songs. The quotes are delivered expressively and are mixed well to have that vintage feel. The only catch is that the subject matter could be a little more varied; many of the quotes reference music in some way. Rating: 8/10