Best Delay Plugins
Welcome to my current list (updated regularly) of the Best Delay Plugins. When mixing music, Delay is an essential audio effect alongside Reverb to create space. I always love to use delay in a creative way to give my Samples Packs a unique shape. For me, it must sound more interesting in the end than a regular delay sequence.
In order to have maximum control, especially with chaotic or experimental delay patterns, I recommend setting the delay to 100% WET and bouncing it to an audio track. That way, you can mix the delay exactly where it makes the most sense or sounds the most interesting. Muting or reversing parts of the delay track is also very easy in this way. If you do this, the mix / loop remains transparent and is not unnecessarily overloaded. As obvious as it may seem, mapping for instance the Feedback parameter to your hardware controller is always a good idea that shouldn't be overlooked.
For detailed specifications about the following delays please visit the linked websites of the manufacturers.
FabFilter Timeless 3
FabFilter, the company behind popular plugins such as Saturn2 and Pro-Q3, has published the third version of their amazing Timeless tape-delay simulation.
Timeless 3 is not only a perfectly modelled classic tape delay. Its unique high-quality filters and many creative options turn it into the ultimate sound-mangling machine! Perfect if you want to go a little further.
You can create echo, chorus, flanger, phaser, scratch effects, and much more.
The ability to create crunchy modulated delays with particularly interesting-sounding feedback and creative effects has changed the sound of my Sample Packs.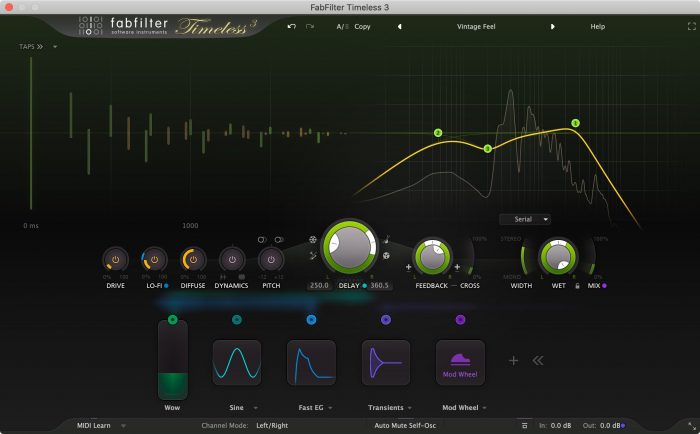 With Timeless 3's modulation section (up to 50 modulators in your system), there's nothing you can't do. The process is much improved, the interface is simpler and more attractive, and the new effects settings give warmth, saturation, and more.
All of the customizable features, such as the LFO, MIDI, filters, envelopes, additional taps, ping-pong, and a large number of absolutely stunning presets make this a standout. It may be as simple or as complicated as you choose, and it sounds fantastic in either case. Without a doubt one of the Best Delay Plugins. I love it!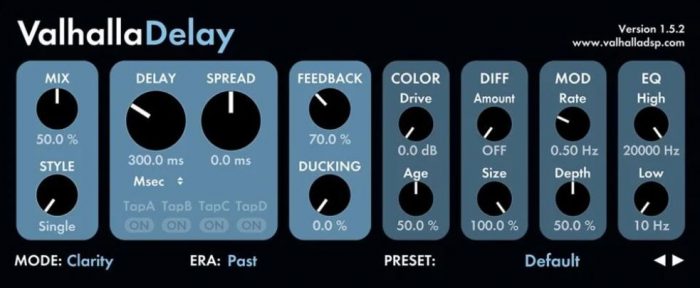 Valhalla Delay
This fantastic delay plugin was created by Valhalla DSP's famed one-person team. Valhalla Delay is one of the most versatile and fantastic-sounding delay plugins available today, with 7 different delay settings ranging from scrunched-up dusty tape-delay emulation to very clean and lively modern delay sounds. The various types of saturation and overdrive are the favorite features of this tool. They provide a tremendous amount of enjoyment.
Experiment with the 'Ghost' mode to see what you can come up with. Also useful for producing distinctive effects are the frequency and pitch-shifting tools. Two fantastic new modes are included in the most recent version – PhaserDDL and Quartz. Throughout all delay modes, Valhalla Delay boasts superb sound quality and a wide range of effects. It's simple to use, with a clear interface and onboard instructions. The Valhalla DSP site has detailed descriptions of all controls.
Excellent value for money.
D16 Tekturon
D16 Tekturon is a multitap delay with a step sequencer-inspired workflow.
Among the effects I've covered and other multitap delays on the market, it stands out. It takes a completely different approach.
On the 16-step sequencer, eight parameters can be modified

individually. In addition, each delay step might have its own set of parameters. As a result, every delay tap may sound different from the one before and after it. You get some cool delays, and the filter sounds great. Tekturon can create beautifully detailed and fluid filtered multitap delay lines, funky rhythms, crazy temporal excursions, and spatializing effects, among other things.
With Tekturon you can achieve much more than with a regular stereo delay. It's quite inventive because it opens up a whole world of rhythmic and spatial delay possibilities. Highly recommended!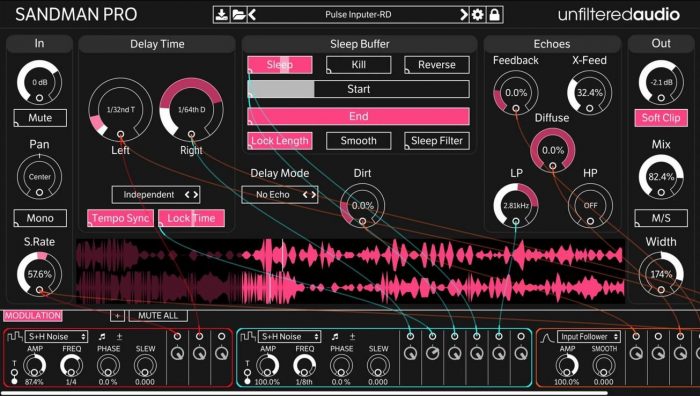 Unfiltered Audio Sandman Pro
Sandman was a favourite of mine, but the Pro version is much another story. Specifically, the new modulation system and Delay Modes, as well as the bizarre Sleep Buffer display. Sandman Pro boasts excellent sound quality, unrivalled tweakability, and is incredibly user-friendly. The Modulation System can be intimidating at first, but with practice, you'll get the hang of it.
In the way it addresses delay, it's inventive. It performs the basics, but it also does a lot of weird "out there" stuff, which is precisely what I was looking for. The sample rate control is still a winner, with six delay options, a robust modulation mechanism, and six delay settings.
It also includes two filters, and the waveform display for the sleep buffer is fantastic.
This tool offers a lot more than you would expect from a delay. it's the ultimate sound-design tool with endless possibilities. it comes with wonderfully varied presets and is a pure source of inspiration. The superb modulation possibilities, which range from minor adjustments in the delay lines to wild effects, are without a doubt the standout elements for me.
Arturia Delay Tape-201
The Delay Tape-201 is a tribute to Roland's Space Echo RE-201, which is so well-known that it doesn't need any further explanation.
The Arturia clone, like the original, features a mode picker in the centre of the GUI that allows you to choose from 12 different echo-reverb combinations. There are further options for influencing the device's age, noise behaviour, and fluttering.
Instead of stopping at replicating the Roland Space Echo, Arturia has made some modernized "additions". The sidechain filter part and the LFO section are the two most significant. To generate continually varying delay effects, the LFO can be mapped to any parameter.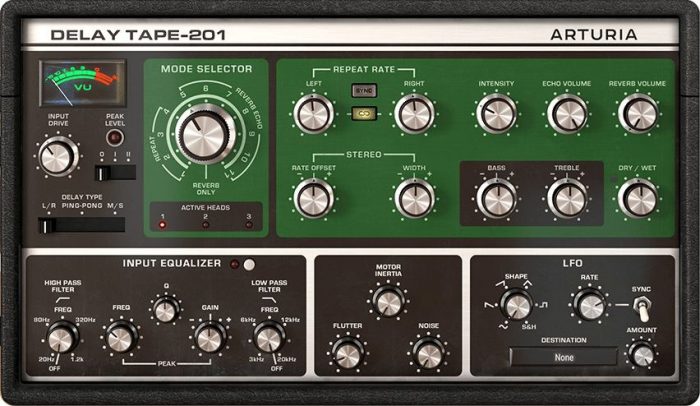 It's quite simple to achieve the legendary tape delay sound: droning echoes that can be drenched in reverb and gradually build up to dragging sound carpets through high feedback values. It's fantastic. You get highly fascinating pitch changes when you alter the delay times, producing the ideal retro sound. Excellent sound quality, simple operation, and a scalable GUI with low CPU load – great!
BTW: The UAD2 Galaxy Tape sounds similar and relieves your audio system through the UAD-platform. Another plug-in from this category, great sound and an unbeatable price is the Vintage Tape Echo from AudioThing.
.

D16 Repeater Delay
Repeater is a vintage modelled delay plugin and was developed in collaboration with Slate Digital. You will find 23 different and digitally modelled echo devices from the last decades.
For me, the most striking characteristic of this delay plug-in
is the extremely excellent sound with an analogue feel. In the presets you will find classic tape delays up to digital device emulations. You have independent delays, feedback, filters, panning, and volume. Sonically everything is on a very high level.
The analog button does something interesting here: it smoothes down transients and rolls off high frequencies. In addition, the easy-to-use tool offers a slight harmonic distortion. The delay models are awesome!
Native Instruments Replika XT
Replika XT isn't a replacement for Replika; rather, it expands on its architecture by adding new features and improving existing ones. It has a wide range of delay (five modelled delay modes), modulation, and even reverb-like effects to offer.
Replika XT is a simple interface that makes even the most complicated effects simple to produce. Producers can use pattern controls to generate rhythmic repeats that change in time with the music. A bespoke stereo image can be created by panning each delay line as well as
the dry signal. The ducking function, which unfortunately not all of the delays presented here have on board, is to be rated positively. This feature keeps the mix transparent. Dual-mode (putting two delay lines in Serial or Parallel), two extra delay Styles (Analogue and Tape), and five new Modulation effects: Chorus, Flanger, Pitch Shifter, Frequency Shifter, and Micro Pitcher, bringing the total number of Modulation effects to seven.
One of the best delays around, simple but sophisticated.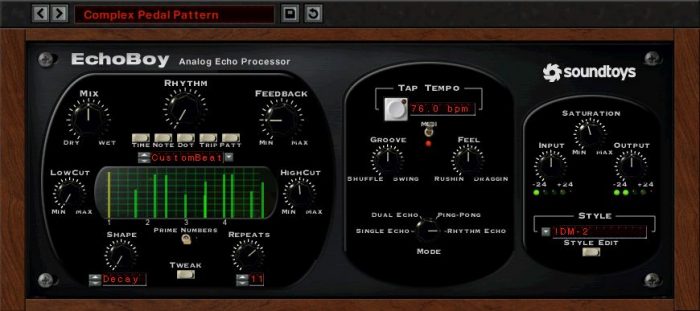 Soundtoys Echoboy
Echoboy has been around for many years and it was recommended to me by an industry pro. It's undoubtedly one of those plugins that will make an appearance in every mix or sound design session.
It's based on a long line of classic analog delay units and has a warm 'analogue' sound.
You can spend a lot of time tweaking custom delays and echos with several common delay plugins, or you can simply
glance over the Echoboy presets and tune them in. It provides a workflow that is both time-saving and intuitive. Groove controls give you a creative advantage that allows you to explore endless possibilities. It also features wonderful choruses and warm spaces and reverbs! Echoboy is on the more expensive side of the spectrum, but considering the vast array of functions and depth of analog-modelled sound quality available, it's well worth the money.
I enjoy also using the EchoBoy Jr., which features seven analog echo emulations. It's simple and easy to use. With one license, you get both Echoboy and Echoboy Jr, and both are excellent performers.
Waves H-Delay Hybrid Delay
The H-Delay has been around since 2009 and continues to gain popularity.
One of the reasons for this is its simple and user-friendly interface, which makes it a joy to use.
You can use it right away to create simple, useful delays. This gadget will never slow your workflow. It's quite simple to create the exact delay sonic I'm searching for in a matter of seconds.

When using this on any instrument, automate the delay time knob over time. This will give the delay some interesting pitch modulation. You can also use H-Delay to make fascinating sounds by allowing the feedback to self-oscillate. To modify the pitch of the feedback, increase the volume, and automate changes in the delay duration. H-Delay offers also useful low- and high-pass filters that can be adjusted as needed (20Hz to 20kHz). Engineers are yearning for that warm analog richness, and H-Delay provides it.
TIP: Turn the "ANALOG" knob all the way to the left (OFF) if the Noise Sound disturbs you. The numbers 1 to 4 represent different forms of noise.
This was my personal list of the Best Delay Plugins and I hope you enjoyed it.